What is the AI Innovator Community?
Join Sudha Jamthe's 350+ students to learn the foundations of Artificial Intelligence Business with a on-demand lesson and a community of speakers, mentors with monthly live guidance to learn different AI application in real business setting with Sudha Jamthe.
This AI Innovator community membership has three parts:
1. Community:
This is the best part and one I enjoy the most as I get to see the students grow and help each other as they pivot in their careers with special exclusive events available only at the AI Innovator Community. Join a monthly live Q&A about AI Innovation opportunity analysis with Sudha Jamthe
Upcoming Calendar of Monthly AI Innovation Applications and Live Q&A with Sudha Jamthe and special invited guests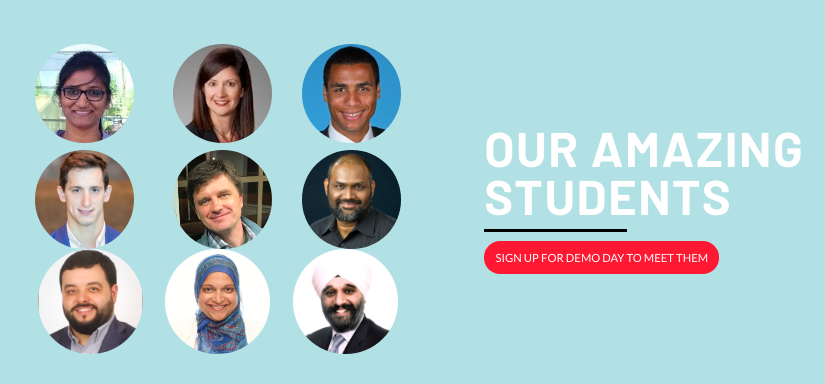 Image: Sudha Jamthe with the Apple Self-Driving Car in the background in Cuptertino, CA taken on Jan 20, 2021.
Feb: Datascience sprint and your role in bringing innovation to your company
Mar: What is No-CodeAI. Is it a business strategy for AI Innovators? What is reality of AI in companies in building out AI.
Apr: Understanding Neural Networks as a business user and CareerPivot to AI Ethics
May: What is AI Product Management
Jun: Business Questions to ask in understanding AutoML on the edge (car or mobile)
Jul: MLUX with delivery bots and the fight for curb space
Aug: NLP - Voice and Chatbots
Sep: Computer Vision and Industry 4.0
AI Innovator Community membership events also include invitation for 1-2 monthly industry guest speaker live Q&A for networking and to augment our lessons to give you a sense of what are real AI Applications in Industry and what does not work with AI pilots in industry and cities.
Past speakers have come from top innovators and some of them have been my past students. Past speakers come from IBM, Amazon Alexa, HP, and some industry thought leaders such as David Kerrigan and more
2. Coaching:
Get a 30 min free 1:1 career coaching with Sudha Jamthe (upon signup). For annual subscriptions, you get this once every quarter so you can check-in on your own progress and adapt to changes in the market.
3. Content:
Learn DataScience for the Business User using NoCodeAI
Key Topic 1: Learn about Artificial Intelligence As a Business topic with On-Demand lessons. Go between the gap between business and technology to make it work for your job function.This is a foundational lesson to understand the many AI markets as AI Technology market and Applied AI market and where do you belong.
Key Topic 2: Learn about Technology spectrum covering Machine Learning, NLP, Computer Vision, Deep Learning, Text to Speech and AR/VR using NoCodeAI.
Get an understanding of the applications of these technology and a NoCode AI Lab to learn a Datascience sprint as a business user and what presents an opportunity for your unique skills and experience.
Key Topic 3: Lessons about various AI Applications in various Industries and what is your role as a product or business user or AI designer or AI Ethicist in building successful AI applications
I am excited to welcome you to offer a safe learning space for you to learn this exciting topic in an evolving space. My style is to guide you to find your path to innovating in this exciting space by gaining a foundational knowledge while finding your transferrable skills so you can decide how you want to pivot to new opportunities with Artificial Intelligence.

Scroll down to enroll! We take only 20 people in a cohort to keep small learning circles of multi-skilled global professionals.