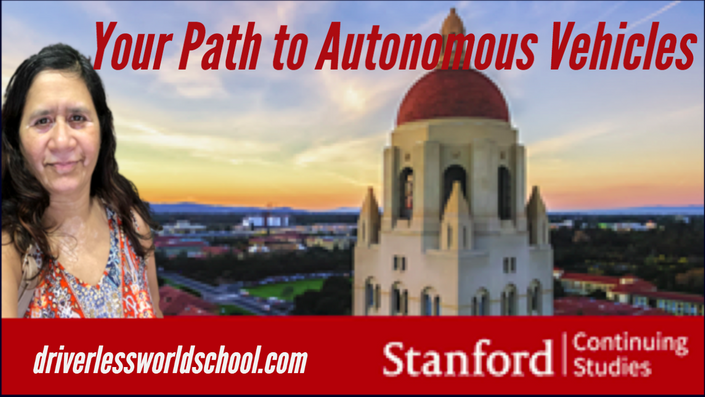 Begin your journey to an exciting career with Autonomous Vehicles with these two foundation course bundle.
Course 1: Autonomous Vehicles Masterclass
| | |
| --- | --- |
| | Course 1: Autonomous Vehicles Masterclass(6 weeks from May 26th, 2020 or the June cohort) |
| | |
| --- | --- |
| | Course 2: Business of AV Data (with hands-on digital twins case study) (6 weeks from May 28th or June cohort) |
| | Course 3: Digital twins in AVs (with Volvo Case Study) mini-course (3 weeks from June 18, 2020) |
1. Learn from Expert Instructors
2. Build Network from industry guests
3. Gain experience from working on real industry problems
Network and learn industry best practice from guest speakers.
| | |
| --- | --- |
| | Voice in the Car: Steve Bishop, Head of UX, Amazon Auto |
Live 1 hour weekly classes in 6 week each
Learn at your own pace
Students can attend the live sessions and choose to watch the video lessons and guest speakers at their own pace. They can complete the course in 6 weeks (or 3 weeks for the mini-courses) and and may choose to attend the live sessions and continue to learn at their own pace. They will receive a certificate on completion of a select quiz.
30 day money back guarantee.
Multiple, flexible pricing plans available:
$999 for AV Masterclass + Business of AV Data course bundle
$799 for the AV Masterclass + DigitalTwin in AVs (with Volvo case study) mini-course.
Monthly Payment option available at $89 for 10 month.

All courses have a 30 day money back guarantee (no questions asked)
This course is part of the Path to Autonomous Vehicles Certificate Program which includes AV Masterclass, Business of AV Data, AI in the Car, AIX Car Experience and a Capstone project with a company in AV space.
Meet Your Instructors
Sudha Jamthe: CEO of IoTDisruptions.com & AI and AV Business Instructor at Stanford Continuing Studies. Ms. Jamthe is a globally recognized Technology Futurist with 20+ year mix of entrepreneurial, academic and operational experience from eBay, PayPal and GTE. author of three books on the Internet of Things, '2030 The Driverless World', and 'AIX: Designing Artificial Intelligence.' She is the chair of the strategic advisory board for Barcelona Technology School and an Ambassador for FundingBox Impact Connected Cars (Europe H2020) Community. Jamthe has an MBA from Boston University and enjoys mentoring leaders on digital transformation.

David Kerrigan is an AV and AI author and speaker, specializing in the impacts of Artificial Intelligence on Society. Mr.Kerrigan has written 4 books and his best selling book on Self Driving Cars "Life As A Passenger" is available in English and Chinese.

Mr.Kerrigan is a recurring guest lecturer at Stanford Continuing studies on Autonomous Vehicles and on Artificial Intelligence. Kerrigan consults on innovation for clients including Mastercard and BMW as well as lectures at a number of universities.

Mr.Kerrigan is a founder and COO of London-based software firm, Quikkly, which provides computer vision solutions to over 500 million users via Pinterest and Warner Bros among others. Previously, David ran the Mobile Broadband business unit at Three UK, and the consumer & retail teams at Three Ireland. Mr. Kerrigan will teach the Autonomous Vehicles Masterclass course.

Mr. Alexandre Vargha is the Project Leader for Connected Services in Volvo Group. Mr.Vargha is a veteran with 15 years experience in the automotive industry managing the journey of strategic technology for customers, dealers and market companies with connected innovative solutions, transport automation and intelligent logistics systems.

Mr. Vargha is passionate to bring his vast experience in creating digital twins and mobility with data in the car.

Mr. Vargha has co-developed and will teach the Technology module of the Business of AV Data course.
Course Curriculum
Course 1: Autonomous Vehicles Masterclass
Available in days
days after you enroll
Course 2: Business of AV Data
Available in days
days after you enroll
Course Wrap-Up
Available in days
days after you enroll
'Sudha is incredible in bringing out the best in her students. She effortlessly encourages students to follow their dreams and their passion'
- Henry Lau, ex-Google/ex-Nvidia Engineer & current Head of Innovation, Undercover Insights