What is WeeklyWed?
Who? Join us on Wednesdays we come together as a community of students past and present for a closed room live Q&A session with invited industry guest speakers (some of whom are past student alums of Sudha Jamthe).
What? You will learn about Artificial Intelligence, Autonomous Vehicles, or Internet of Things with a focus on the gap between high level strategy and low level technology to learn a topic + industry best practice.
Why? This is a unique opportunity to learn from the experts, ask questions in a safe setting and also learn from each other as we have a mix of students come together from many countries and industries and variety of backgrounds.
Next WeeklyWed July 21st, 2021
Topic: AI for Citizen Engagement with a Data Analysis lens
(Our Summer Theme is Learning Pathways to AI)
Follow our blog to get the recording link will and last weeklywed summary at medium.com/businessschoolofai.
Julien Carbonnell will be speaking about AI for Citizen Engagement with a Data Analysis lens and bring Smart Cities case studies from Taipei (Taiwan), Tel Aviv (Israel) and Tallinn (Estonia) for an exciting new book "Democracy Studio: artificial intelligence on citizen engagement"
Here's Julien Carbonell's book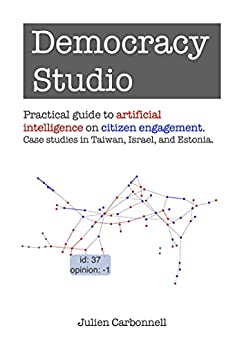 Ananya Sen, AI Product Manager, and our student from Capstone AI Lab course will be joining me in hosting the weeklywed by interviewing our guests.
Summer (July/Aug) Theme: Learning Pathways to AI
July 14th Weeklywed LiveLab with data labeling for Computer Vision: Reply back if you want to be one of 4 people who wants to work on this project.

June Theme: Data and Humans: Data is everywhere. Data is about us humans. Data is the language of AI and AI uses data to communicate with us and products are built to create experiences and engagements and get our feedback all using data. Let us explore the dance between humans and data and where it is going and how it it impacting our work in technology innovation and AI Ethics.
June 2nd: Making Sense of Synthetic Media with Manon Den Dunnen (Netherlands)
June 9nd: Complexity in Technology Innovation with Ankita Joshi (UK)
June 16: AI Ethics and data bias live Q&A with Diya Wynn of Amazon AWS
May 5th: Demystifying Complexity in Transportation Transformation with Evangelos Simoudis (Silicon Valley)
May 12th: Innovation with Alexandra deschamps-sonsino (UK)
May 19th: Career Pivot to AI Ethics Webinar with Sudha Jamthe & Susanna Raj (Silicon Valley)
May 26th: Live Class Session: Developing Transferrable skills for Job in AI Ethics